Every day, our Support Workers change the way people experience care.
Without even knowing it, the work we do can really change lives…
We will be showcasing some of our excellent work and the feedback we receive, here on our website and in our newsletter/blog
January 2018
"My mum's condition is deteriorating at a fairly steady pace and the unpredictability of dementia on a day to day level is extremely distressing for both the patient and the close family.
Sara has been a tremendous support to my mum. She shows true compassion and understanding and furthermore, her capacity in dealing with this has been an opportunity for me to take a step back and gather strength.
We are doing everything we can, but struggling at times, to keep mum out of Residential Care. She lives with us and in truth it gets harder every day.
Sara has excelled in recent weeks in providing care it has proved so hard to find.
She is a fine example of the meaning of 'support at home' and a real ambassador for your organisation"
From: A very satisfied customer. Received with pride from all at Support at Home.
Thank you Sara for the care and compassion you show in your work.
December 2017
Support Worker, Stephen Cummins has been working with Hank for many years.
Ste has been the main carer since 2013, covering days/nights and supporting the team in a very responsive way when emergencies have arisen.
Ste is very well liked by Hank, they have developed an excellent relationship and in turn – Hank's family have got to know Ste very well.
Hank's family have always appreciated the work of all support workers who care for Hank and most of the team have been working with Hank for several years, providing a much-appreciated service which offers peace of mind and quality care.
Ste has experienced some difficulties of his own recently and the family felt it would be a nice gesture to join Ste in celebrating his birthday as he was on shift on the day!
Here are some pictures: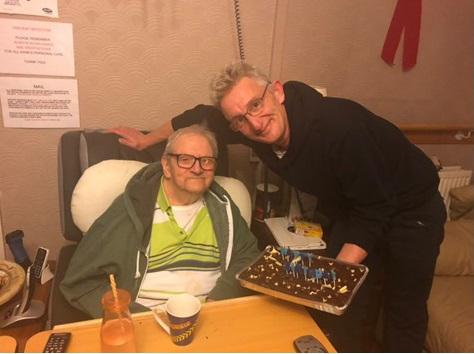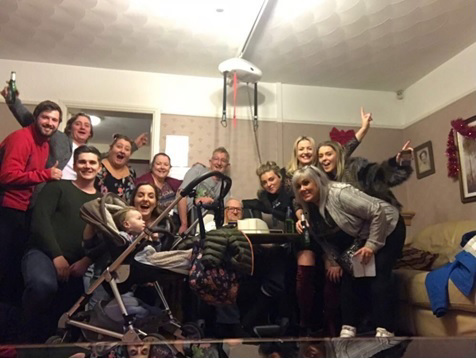 Thank you to Hank and his family for showing such kindness to our Support Workers and giving permission for us to share this information.
Thank you to Ste and the team for all the reassurance and care that you provide, each and every day.
Support at Home would like to wish Ste a speedy recovery!